Whoa, what a day - and I'm NOT complaining! But what could it have been without all of the amazing people on this planet? I'm lucky enough to be friends with an amazing bunch, and I just want to share a bit about them.

These are two of my best friends. One is an amazing violist/throatsinger/bike-bike-gamelan-player and the other is a flutest/knitter/amazing-vegan-chef. I highly suggest you listen to the
skeleton song
. Its almost Halloween, yo!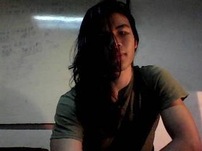 This is Charlie, he is an incredible Burmese guitarist. I introduced him to my producer and he recorded an album in Bali while we were there. You can listen to it
by clicking here
. You can download it free or make a donation and I will ensure that 100% of the funds go directly to him.
Meghan and Timothy Van Cleave (above) are starting a new life in Portland, OR. I miss them tremendously and cannot wait to: 1. go down and visit, and 2. hear more about their new studio!!

I by with a lotta help from my friends, and they give me a lot of inspiration too. There have been a bunch of amazing albums this year, and I hope I can remember them all:

I don't know what I'd do without my Vancouver family, my Halifax family, my friends in Montreal, Toronto, Calgary, Edmonton, and Winnipeg, up and down the coasts, across the oceans in Aus, Cambodia, Burma....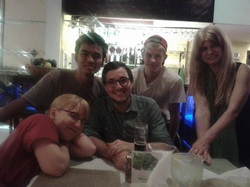 Last but not least I don't know where I would be without the
lovely Linda
, the amazing Ryan, all of my parents, grandparents, siblings, aunts and nieces and nephews.... I'm sure I'm forgetting to list someone, so let me just say that my human family the world over is loved and appreciated.
Let's have tea sometime :)
Have you recorded something, or put something together and want to share it? Leave it in the comments section, and I always read all of my email: clara [at] sidewalkcellist [dot] com