Be the change you want to see in the world. I want to see a world with less plastic and more love, more sustainable thinking and no more
planned obsolescence
. I've been working towards living a waste-free life and have been very inspired by
this blog
. There are so many organizations working towards raising awareness about plastic pollutants and facilitating clean-up projects, hare are a few that I know about (click the picture to check them out):
This past fall, when I started on my trip around the world, I left home with one cloth bag,
one waxed cotton food bag
, a reusable plastic container, a spoon, a metal straw, a travel cup, a few cloth hankies, and a couple plastic bags that I had already reused a couple times.
These few items have helped me avoid hundreds of plastic bags, dozens of plastic utensils, hundreds of plastic and paper cups, dozens of take away containers, and packs of kleenex/tissues. Not only does this reduce how much waste goes into landfills and incinerators, it also reduces the energy consumption of producing these products in the first place.
Its a small contribution to this planet, but I feel empowered doing my part. When I see images like this one, my heart swells and I am compelled to do everything in my power to reduce my footprint.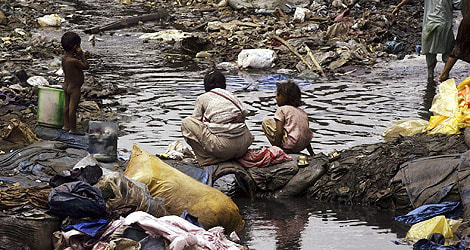 I hope that one day we will find a way to halt the production of new plastic and styrofoam containers, and instead, mining our landfills for these materials and recycle them.

Perhaps I can encourage you to join me in the practice of keeping a bag with you whenever you go out (a plastic bag folded up fits inside a pocket quite easily), and/or to take a reusable cup/container/utensil/etc when eating out or ordering take-away.

My father is an economics teacher and I have been learning about the way money makes the world go around since I could talk. The basic principal that drives our free-market economy is supply and demand. If we reduce the demand for plastic bags, plastic cups, styrofoam take away containers, etc. - we will reduce the supply, the production, and therefore the existence of these vile things.