Wow! The big moment is almost here..... Last year I was fortunate to receive my first FACTOR recording grant to bring a new single of mine to life. The song is called "Lights in the Dark" and is very much inspired by the chaos of the world around us, and asks us to ponder - perhaps there are some lights we can only see in the dark.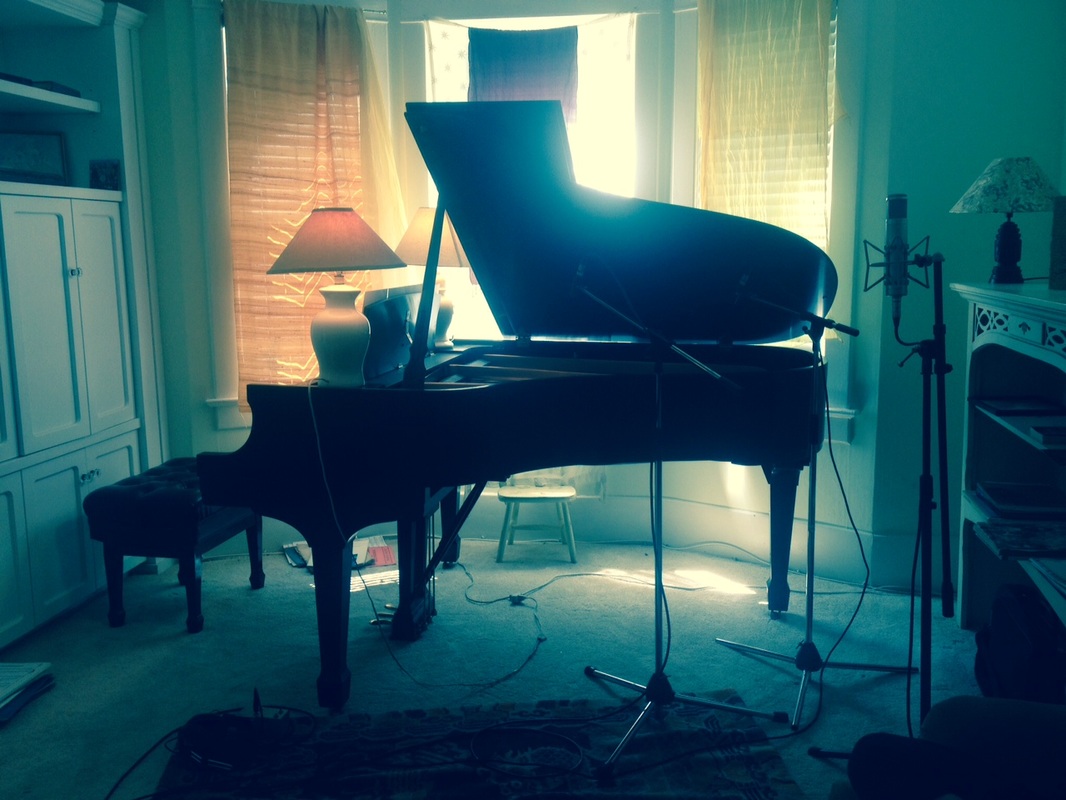 This journey began on a bright, sunny day in June at the lovely Vancouver home of pianist and faerie godmother, Linda Kuttis. Her beautiful Steinway piano was recorded by the lovely Alexis Douglas and Sam Koop with equipment borrowed from multiple friends and studios.

Elliot Vaughan, local composer, friend, and violist, joined me at Alexis' home studio a few days later so that we could record a scratch track of the string quartet section, I laid down a rough version of the vocals, and therefore the whole track was roughed out for Dr. Timothy Van Cleave to add his percussion magic.

| | |
| --- | --- |
| Timothy recorded his drum tracks in Portland (sadly he and his lovely wife are no longer in Canada), and with the magic of the internet, sent the files up north for our listening pleasure. Alexis and I had a lovely evening sipping wine and comp-ing the drum tracks, "Lights in the Dark" was starting to come alive.... | |
Our last day of recording was at Raincity Studios where I was thrilled to see all sorts of amazing local band's records on the wall (The Pack A.D.!! So Cool!!). We recorded the vocals for reals, I laid down a nice little cello line to pull the string sounds through the whole song, and then Molly MacKinnon and Genevieve MacKay joined us to record the string quartet - for reals. I thought it was hilarious that our recording engineer for the day was Mark MacKitrick (so many Scottish last names!!).

Lastly, our day of mixing was at Hipposonic Records in North Van. It was soooo warm in that little room as there were so many pieces of equipment operating. I was STUNNED to see that the brilliant Alexis, the lovely Sam, and the recording engineer du jour Karl, were running all of our sounds through this guy:

REAL TAPE guys!! For rrrrrrrreeeeeeeals! I was over the moon because my intention from the beginning of this recording was to allow this track to have a live and analog feel. This is why the piano bed tracks were done without a click track, all of the room sounds that we picked up we kept, and all of the layers were done with as little editing as possible... and running the sounds through this tape machine robot made everything sound so warm and alive.

After the mixing was done I sent the files off to Brock McFarlane at CPS Mastering and now I'm just waiting for the final file. I made the album art myself but I'm saving that image for this Tuesday (Aug 2) when I do a soft release and begin sending it out to friends and family. If you'd like a copy as soon as its out, send me a poke: clara [at] sidewalkcellist [dot] com.

Before I sign off, I want to take a moment to thank all of the lovely people that helped me write the grant to make this song a reality. Alexis Douglas has been an inspiration and a huge driving force from day one - her energy and spirit are out of this world. My friends and colleagues Ruth Cornish, Rodney DeCroo, and Timothy Van Cleave believed in me enough to write letters of reference, as did friend and radio DJ Gabriel Munro, which undoubtedly played a huge role in securing this funding.

As a budding French student, and as a Canadian desiring the ongoing unity of our country, I wanted to include some French lyrics in this song. My very dear friends Alexis and Sarah from Montreal helped me translate the chorus into French and I got a little help squeezing in all of the syllables (as in leaving out some syllables) from Jean-Michel.

I had initially hoped to include Alyssa Stevenson (flute), Anita Eccleston (trumpet), and Theo Kraulis (electronic producer) on this track but the reality was that we had to simplify the initial intention to finish everything by the FACTOR deadline. I think you'll like it....

I'd like to sign off on this blog by sharing the lyrics from "Lights in the Dark"....

Our past is full of daggers,
it ain't wise to keep it close
If we kick up our inner embers,
that fire better be for light
How big is your sky?
Can you cradle it in your eye?
Can you seek your peaks and valleys
with a smile deep inside....?

Time can make anything crumble
There are lights we can only see in the dark
Even the mountains were young once
Only a fraction of what was still is

I was drawn to the darkness,
in spite of myself
Don't touch it -
clouds burst into harder things
For nothing cleaves a mountain's sides
like time and sky's watery eyes
There may be more existence
then we will ever find.....

Tout peut s'effondrer avec le temps
Il y a des lumières qu'on ne voit que dans le noir
Même les montagnes ont été jeunes
Qu'une fraction de ce qui était, l'est encore


This recording was made possible in part by the Foundation Assisting Canadian Talent on Recordings (#FACTORfunded) and the Government of Canada.

Ce projet a été rendu possible en partie grâce au Fondation Assisting Canadian Talent on Recordings ( #FACTORfunded ) et le gouvernement du Canada.