I have had a pretty phenomenal weekend and I have a lot of people to thank - my parents (all 27 of them), my siblings, my friends, my cello student and adopted little sister Jasmine, my mister Ryan, and a number of small farm animals. Your loss is deeply savored and marinated....
But why do we stuff ourselves full of food on the second Monday of October...?

... Because European settlers and aboriginals got along so well they decided to have a big feast? That's the children's tale we're supposed to all believe so we can feel good about indulging ourselves (you know - without all that nasty "guilt" stuff), but the familiar tale of the "Thanksgiving Holiday" is about as ludicrous and commercially fabricated as Santa Claus and the Easter Bunny.... Don't get me wrong, I'm all about having a great meal now and again, but let's just be real for a minute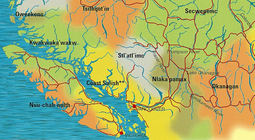 "Estimates of the numbers of Native North Americans at the time of the European arrival/invasion in what is now the United States and Canada vary between 1.2 to 12 million. By the end of the 19th century, the number of Native Americans had been reduced to 250,000, mainly exterminated through imported diseases, dislocation, slavery, mass murder, genocide and suicide rates that were many times the national average."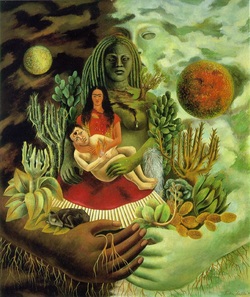 The colonial era reminds me of "The Love Embrace of the Universe" by Kahlo - there is light, but there is also dark, and we wouldn't be where we are without the past being what it was. The calamity that struck the native peoples of North America is nothing less than one of the worst genocides in history and it is high time that we acknowledge and reconcile the past instead of gravy coating the truth.

I acknowledge that I am writing this blog on unceded Coast Salish Territory, and that I am very, very, lucky to be in Vancouver, right now. Here in North America we have ample access to clean air, water, food, and trees - but at who's expense? The economic activity that has followed Western colonialism is now threatening the protection of our air, water, food, and ecosystems. Whether we talk about pipelines, coal exports, fish farming, fracking, tar sands, logging, genetic modification, pesticides, the disappearance of bees, or any other issue - one thing that I think we can all agree on, is that our resources need to be protected and respected by the governments and industries that hope to profit from them. There are still native people in North America that live off the land. Their lives and well-being are directly influenced by these industries.

This Thanksgiving, join the Idle No More movement and stand in solidarity with our native brothers and sisters as they strive to raise awareness and protection for our most precious mother nature:

Please leave comments below, I greatly appreciate your feedback and readership.

Resources:
( 1 ) http://www.historytoday.com/elizabeth-fenn/great-smallpox-epidemic
( 2 ) http://www.straight.com/news/671876/stolo-nation-official-wants-more-cities-recognize-unceded-first-nations-territory
( 3 ) http://www.religioustolerance.org/nataspir.htm