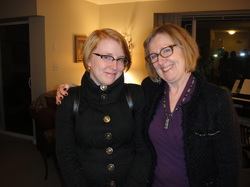 I feel very lucky to have my mom in my life, not everyone does. In fact, I feel extra lucky because I have a mom, a step-mom, a fairy godmother, and a fairy grandmother - it sometimes feels as though I'm collecting people that like to take care of me... and feed me. I am so grateful for their support in my life and that gratitude intensifies when I consider how hard it is to be a mom.

The thought of becoming a mother is somewhat frightening to me, but there are two aspects of motherhood that I think we take for granted: being able to choose how many kids you have, and the ability to feed them. Sometimes its tricky - as a baby I wouldn't put on weight and my brother was allergic to everything - but there is always food on the store shelves and even if money's tight, one can still choose between diapers and formula. Not a great choice, but hey, at least its there.

As a young woman growing up in Canada, I have a choice as to whether or not I have children which is very empowering. However, there are a couple of factors that are dissuading me from making my own little humans, including a somewhat pessimistic view of the human race and the planet we live on - but I won't get into that now.

No, the primary reason why I do not want to have my own children is because there are already so many people (of all ages and backgrounds) that don't have a mother in their life. Some are taken away by death, some by poverty, and some by mental health. I want to promote two ways to improve the chances for successful relationships between mothers and children the world over.

There is an organization called
Population Action International
which advocates for women and families to have access to contraception in order to improve their health, reduce poverty and protect their environment. If every woman or family could plan how many children to have based on their resources and health (mental and physical) then there would be a better chance for each child's well being and happiness.
Don't give me a pro-celibacy argument because there are a lot of children born into the world as a result of rape, sex trafficking, and other horrors. You may think that every child is a gift from god or that contraception is somehow evil, but consider the fact that 2.6 million children starve to death every year and the fact that for whatever reason, there is not enough to go around. By promoting safe and effective contraceptives, families can reduce their family to a smaller number and give each child a far better chance at life.

In our hypothetical universe, each family is a manageable size. Now, it's time to feed them.

Way back on week 2 of my blog I shared my new-found knowledge of the Adventure Project, an organization creating jobs making stoves for mothers and families to provide an easier, safer and more fuel-efficient way of cooking. With all of our high-tech, stainless-steel, gas and electric stoves, can you internalize the fact that a huge number of people still cook over an open fire?!?

For the love of moms the world over, let's reduce world hunger: limit each family to a manageable number of mouths to feed and provide access to a simple stove so that mom doesn't burn the house down while making breakfast.

References:
(1) Family Planning Advocacy: http://populationaction.org/
(2) Clean Safe Stoves: http://www.cleancookstoves.org/get-involved/