I started writing this post from the incredibly magical, spiritual, and captivating city that is Kathmandu and am finishing it from the bustling city of Phnom Penh.

Europe feels like a world away and I had some incredible experiences after leaving France (which is when I wrote my previous post). I absolutely fell in love with the beautiful canal-lined streets of Amsterdam and could hardly believe the stunning architecture of the Oude Kerk (old church) - its roof is made out of old wooden boats!! I rented a bicycle for a couple days and had an incredible time meandering around the beautiful streets, but the hoards of tourists were a bit much for me after a few days...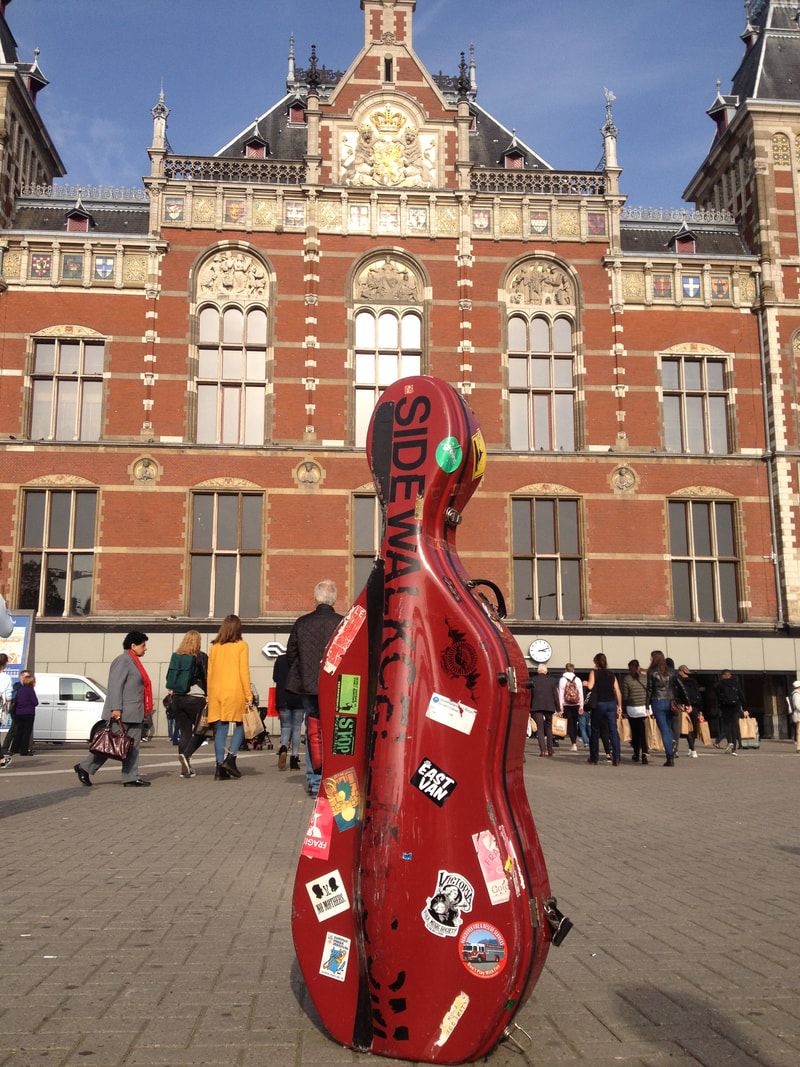 A friend recommended I check out an open air museum in Enkhuizen and since there was no hostel there so I booked two nights in a town called Alkmaar and made a day trip, basically across the entire country to visit the East coast of Holland. The train ride was lovely, about 2-3 hours in total, and the museum was a reconstruction of a 15th-17th dutch fishing town. It was really neat though I was pretty much the only one there without kids! On the way back "home" to Alkmaar I got off the train at Hoorn and had a little picnic on a bench over looking what was possibly the most beautiful sunset I have ever seen in my life...

It was so beautiful I couldn't take a single picture (I knew the camera on my phone could never do it justice) so I simply sat and took it in for well over an hour.
After leaving a piece of my heart behind I had a big adventure day taking two trains and a bus to Hoek Van Holland to then take a ferry across the English Channel to Harwich, then got on another train, and then jumped the tube to arrive at a friend of a friend's house in the North Eastern corner of London (it was a long day but the adventure was less than half the price of taking the direct train). I only had two days in London but I managed to see Platform 9 and 3/4, 22 Baker Street, the Regent Park, Kensington Park, the outside of the Kensington and Buckingham palaces, the Parliament buildings, Big Ben, London Eye, the Tower of London, London Bridge, Trafalgar Square, and ride on the front seat on top of a double decker bus - so so so so cool!!

Actually, all of that sight seeing was on my first day (which was a perfect weather day) and when the skies opened up on the second day I decided to take it easy and stay closer to "home". My host, Valerie, is doing a Masters Degree in directing at the University of Essex and was having a dress rehearsal and table reading of an excerpt of Waiting for Godot that afternoon and evening. She invited me to bring my cello along and improvise some music, and I did, and it was so much fun! We went for a beer after at a good ol' fashioned British pub and the next morning I woke up at 5am to make the 1.5 hour tube ride to Heathrow Airport and fly to Kathmandu!
Two weeks in Kathmandu fllllleeeewww by!! Everyday I'd wake up at my hotel, have a wonderful breakfast, practice my cello, practice my French, then get picked up by one or several friends, drink tea (its the thing to do in Nepal), explore beautiful temples, walk around the winding streets, take in the incredible sights, sounds, and smells, eat incredible Nepalese food, drink more tea, and on a couple occasions jam, witness some incredible festivals, play music for friends and strangers alike, see traditional dancing, and then drink more tea and go to bed!
It was so revitalizing to be surrounded by mountains and I somehow felt very at home. The culture of Nepal is very unique in that Buddhism and Hinduism have mingled and overlapped over hundreds and thousands of years, very beautifully borrowing and exchanging traditions and rituals. Nepalese people are extraordinarily polite, kind, and generous - not once did I feel the least bit threatened or uneasy about walking around by myself or interacting with people, not even late at night. I observed that passersby would either look you in the eye (and smile and return a "Namaste" - the common greeting) or they would ignore you completely.
If you'd like to see some videos of me jamming in Kathmandu, check out my
personal Facebook page
, or my
Sidewalk Cellist Facebook
page as that's where they've been posted.
Now that I'm in Phnom Penh and have reunited with my faerie godmother, we've settled into a wonderful new routine: wake up, make our coffee in our little hotel room, head to
Music Arts School
(MAS), rehearse for a few hours (collaborating with a number of different musicians here and sending music out into the world as the doors are always wide open there), find some lunch, stay cool in the afternoon, and then return to school to make more music in the evening - it's fabulous!
We were honoured to be guests of the first
Empowering Youth Cambodia
conference and I am so inspired by the stories that were shared. This organization is doing so much to help Cambodians: providing education, medical attention, housing, food, scholarships for promising students to pursue post-secondary education, sports programs, music programs, yoga, mentorships, employment, skill training for parents (so that the children can stay in school and not have to drop out to help their parents earn money), and going the extra mile to help people in extraordinary situations overcome obstacles. Many of their current teachers and staff of EYC an MAS are alumni of their programs, the organization is like a big, ever growing family.
Before I leave Phnom Penh I am making a donation to both of these organizations and I encourage you to so as well. Every dollar will make such a difference! Furthermore, if you are interested in visiting this magical place to see for yourself how extraordinary these people are, I would be very happy to assist you in organizing a trip.
​Email me anytime: clara [at] sidewalkcellist [dot] com
Until next time,
​-Clara